Barkley the Cat 小貓巴克里

小貓巴克里是一隻城市的貓,有著都市人的優越感,陰錯陽差搭上了前往鄉下的貨車。原本一直想盡辦法要回到城市的巴克里,在這個小村莊認識了許多的好朋友。
另一方面,一個企業秘密的到這個小村莊開設化學工廠,引起了許多生態的問題,像是彩色的雲、突然大逃亡的青蛙或是消失的蝴蝶。巴克里與同伴們在每集的事件中,解開謎團,阻止了企業對環境繼續的汙染。
Barkley is over confident city cat. One day, by chance, he takes the truck and arrived to the country side .
At first, Barkley tries to find the way back to the city, but he founds a lot of good friends in this little village.
At the same time in the village, a company built the chemical factory in secret, and caused a lot of environmental problems, like strange colored clouds, and butterfly and frog disappearance.
Barkley and his friends have to resolve mysterious case in each episode in order to stop the company polluting the environment.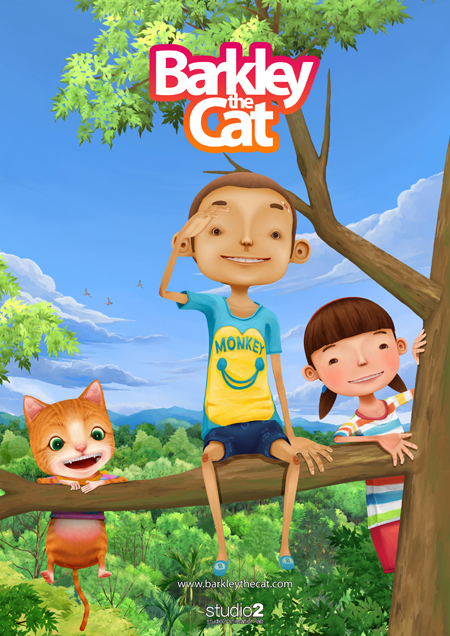 ■ Published: 2011
■ HD format
■ TA: Age 4-8
■ Genre: Adventure Comedy
■ 13 Episodes / 22 mins( total running time:286min)
■ Subtitle: Chinese / English
■ Language: Chinese
■ Soundtrack : Available for dubbing
2013年 阿布達比環境影展 入圍
2012年 韓國首爾國際動畫影展 評審團特別獎
2012年 台灣電視金鐘 動畫節目獎 年度最佳動畫節目
2011年 亞洲彩虹獎 年度最佳角色設計 入圍
2011年 上海電視節白玉蘭獎 最佳國產動畫創意 入圍
2011年 中國動漫節 美猴獎 最佳動畫場景

2010年 經濟部 數位內容優良產品獎 年度最佳動畫片
2013 Abu Dhabi International Environmental Film Festival (finalist)
2012 Seoul International Cartoon & Animation Festival/Special Jury Award
2012 46th Golden Bell Awards / Best Animation Program
2011 1th Asia Rainbow TV Awards/ Best Character Design (finalist)
2011 17th Shanghai TV Festival/ Best Animation Program (finalist)
2011 China International Cartoon & Animaiton Festival
2010 Digital Content Product / Best Animation Program