2014/11/20 – CNA News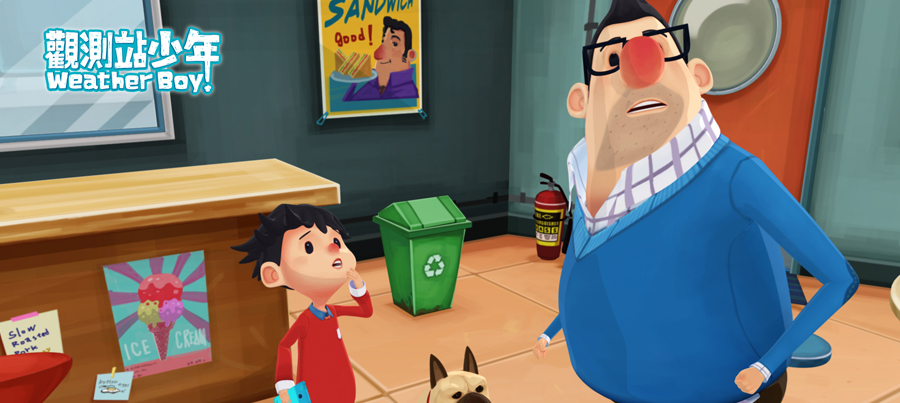 TAIWANESE ANIMATION SEEKS TO RAISE AWARENESS OF CLIMATE CHANGE
By Christie Chen, CNA Staff Reporter
Eleven-year-old Jamie is an ordinary schoolboy in Taiwan. That is until one day when he joins his father in a climate project in the mountains of Switzerland, where a climate machine takes him through time to catch a glimpse of Earth's bleak future.
The climate simulator called Moses carries the inquisitive child, his meteorologist father, an eccentric engineer JP, observatory director Meacy, and Rifle the dog to different time periods in the history of our planet.
The group tries tirelessly to find out what caused the doomsday scenario they see on one of their trips only to discover the demise of Earth is not that far away — unless human beings act now.
"Weather Boy" is the latest animated series by award-winning director Chiu Li-wei and his Tainan-based Studio 2 Animation Lab.
"I want children to know what kind of future they are facing, and I want adults to understand that their decisions are affecting the next generation," Chiu, a two-time Golden Bell Award winner, said of his motivation to make the series.
The 42-year-old told CNA that he was tired of seeing people protest when their houses are torn down or when wages don't meet their expectations while largely overlooking environmental issues.
"When it comes to planet Earth, people seem to think global warming is a far-off thing and that 'it does not affect my everyday life,'" lamented the Tainan native, who is also an assistant professor at Tainan National University of the Arts.
At 13 episodes long, "Weather Boy" took Chiu two years and over NT$30 million (US$985,537) to complete. It received over NT$10 million in government grants.
Each episode includes an educational segment at the end to offer easy-to-understand explanations of how factors such as plate tectonics, volcanoes and the sun affect the climate.
The series aired on the Taiwan Public Television Service in July and Chiu plans to hold talks soon to distribute the series to other countries. His 2011 series "Barkley The Cat" — which also touches on environmental issues — has been screened in over 30 countries.
The origins of "Weather Boy" go back to 2012, over a year after Chiu completed "Barkley The Cat," when he took a trip to France to attend an animation film festival.
At that time he was anxiously working on a story for his next series. It was a year after the Tohoku earthquake and tsunami that struck Japan and Chiu knew he wanted to tell another story about the environment, but he only had a rough idea of what direction to take it.
A clearer idea for "Weather Boy" emerged after he visited the Sphinx Observatory above Jungfraujoch in Switzerland.
At the observatory, which overlooks the largest glacier in the Alps, Chiu was shocked to learn that glaciers could disappear entirely by 2050.
"That was when I decided, ok, this will be the theme of my next animation," he said.
But Chiu did not want only to tell a story about the environment. He wanted his animation to show the world that people in Taiwan can care about — and help solve — global issues.
"Maybe I'm a little nationalistic," the director laughed. "I am not against Hollywood, but it's crazy that the world is always saved by Americans. I want a Taiwanese child to save the world."
An animal lover who offers refuge to stray cats in his studio, Chiu sees it as his responsibility to speak for those without a voice and without a ballot, including children and even the planet.
"I feel like their fate is up to others to arrange and decide," said the director.
Asked what the most difficult parts of creating the series were, he listed making sure the stories were scientifically accurate and creating the wide range of backdrops, which span in time from the beginning of the Earth and the Jurassic period to the present and range from the South Pole to the Eurasian Steppe.
With the series finished, he is now working on a new animated film set for completion in 2016 about a child who accidentally wanders into a city populated by animals.
Chiu said he hopes his works give confidence to other Taiwanese animators, as he is confident there is a market for Taiwan-produced animations abroad.
But more importantly, he hopes to have a lasting affect on his audiences.
"If 'Weather Boy' can arouse curiosity and make people care more about the environment, I think we will have succeeded."
ENDITEM/WH
<News from:http://focustaiwan.tw/news/aftr/201409300015.aspx>