2014/08/19 – Taiwan News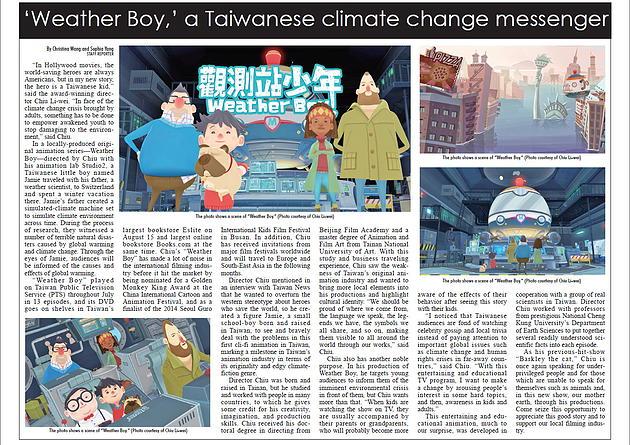 Media Exposure-"Weather Boy," a Taiwanese climate change messenger
Award-winning young Taiwanese director Chiu Li-wei introduces an Apocalypse-like thought-provoking story presented with skilled animation graphics to deliver messages to kids and adults.
"In Hollywood movies, the world-saving heroes are always Americans, but in my new story, the hero is a Taiwanese kid," said the award-winning director Chiu Li-wei. "In face of the climate change crisis brought by adults, something has to be done to empower awakened youth to stop damaging to the environment," said Chiu.
In a locally-produced original animation series—Weather Boy—directed by Chiu with his animation lab Studio2, a Taiwanese little boy named Jamie traveled with his father, a weather scientist, to Switzerland and spent a winter vacation there. Jamie's father created a simulated-climate machine set to simulate climate environment across time. During the process of research, they witnessed a number of terrible natural disasters caused by global warming and climate change. Through the eyes of Jamie, audiences will be informed of the causes and effects of global warming.
"Weather Boy" played on Taiwan Public Television Service (PTS) throughout July in 13 episodes, and its DVD goes on shelves in Taiwan's largest bookstore Eslite on August 15 and largest online bookstore Books.com at the same time. Chiu's "Weather Boy" has made a lot of noise in the international filming industry before it hit the market by being nominated for a Golden Monkey King Award at the ChinaInternational Cartoon and Animation Festival, and as a finalist of the 2014 Seoul Guro International Kids Film Festival in Busan. In addition, Chiu has received invitations from major film festivals worldwide and will travel to Europe and South-East Asia in the following months.
Director Chiu mentioned in an interview with Taiwan News that he wanted to overturn the western stereotype about heroes who save the world, so he created a figure Jamie, a small school-boy born and raised in Taiwan, to see and bravely deal with the problems in this first cli-fi animation in Taiwan, marking a milestone in Taiwan's animation industry in terms of its originality and edgy climate-fiction genre.
Director Chiu was born and raised in Tainan, but he studied and worked with people in many countries, to which he gives some credit for his creativity, imagination, and production skills. Chiu received his doctoral degree in directing from Beijing Film Academy and a master degree of Animation and Film Art from Tainan National University of Art. With this study and business traveling experience, Chiu saw the weakness of Taiwan's original animation industry and wanted to bring more local elements into his productions and highlight cultural identity. "We should be proud of where we come from, the language we speak, the legends we have, the symbols we all share, and so on, making them visible to all around the world through our works," said Chiu.
Chiu also has another noble purpose. In his production of Weather Boy, he targets young audiences to inform them of the imminent environmental crisis in front of them, but Chiu wants more than that. "When kids are watching the show on TV, they are usually accompanied by their parents or grandparents, who will probably become more aware of the effects of their behavior after seeing this story with their kids.
"I noticed that Taiwanese audiences are fond of watching celebrity gossip and local trivia instead of paying attention to important global issues such as climate change and human rights crises in far-away countries," said Chiu. "With this entertaining and educational TV program, I want to make a change by arousing people's interest in some hard topics, and then, awareness in kids and adults."
This entertaining and educational animation, much to our surprise, was developed in cooperation with a group of real scientists in Taiwan. Director Chiu worked with professors from prestigious National Cheng Kung University's Department of Earth Sciences to put together several readily understood scientific facts into each episode.
As his previous-hit-show "Barkley the cat," Chiu is once again speaking for underprivileged people and for those which are unable to speak for themselves such as animals and, in this new show, our mother earth, through his productions. Come seize this opportunity to appreciate this good story and to support our local filming industry.
<News from:http://www.taiwannews.com.tw/etn/news_content.php?id=2552909>